Looking for IPA?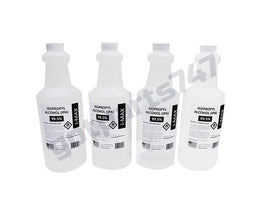 Browse Our Collection Here
Isopropyl Alcohol is widely used in a huge range of different settings, from households and businesses to hospitals and schools. The solution, which is also sometimes referred to as isopropanol or IPA, can be made in different strengths, with two of its most common versions being 99% Isopropyl Alcohol (IPA) and 70% isopropyl alcohol.
In this guide, we'll divulge all there is to know about isopropyl alcohol - from what it is, to the differences between 70% and 99% isopropyl alcohol solutions. We'll give you a brief introduction to the most prevalent uses of isopropyl alcohol, and show you exactly how you could be making use of the solution at home and in the workplace.
What is Isopropyl Alcohol and What is it Used for?
Isopropyl alcohol is a widely used solution which, as its name suggests, contains alcohol. The solution itself is clear and colourless, no matter what percentage of alcohol it contains. There is a strong odour to the liquid, which many say smells similar to another quite pungent solution: acetone.
Isopropanol is used in a huge number of ways, but one of its most famous uses is as a disinfectant. It's also used in rubbing alcohol, and it appears as the main ingredient in many hand sanitisers. Aside from its cleaning uses, isopropyl alcohol is also used in electronics manufacturing, and the production of many medical devices.
The uses of isopropyl alcohol vary according to its strength and purity, as well as the particular types of alcohol which are used in its production. Before using isopropanol, it's well worth reading up on the different variations of the solution to find out which one would best suit your needs.
70% Isopropyl Alcohol
Solutions containing 70% isopropyl alcohol are most commonly used as disinfectants. This particular concentration of alcohol makes the solution a highly effective, fast-acting product which can provide reliable protection from harmful bacteria, fungi and viruses. The solutions are often used in environments where cleanliness is of the utmost importance, such as hospitals, care settings and doctors surgeries.
One of the main points to note about 70% isopropyl alcohol is its water content. Water might not sound that important when it comes to disinfecting, but it really is. The water in the solution works rapidly against harmful cells, helping to coagulate proteins and quickly destroy viruses, bacteria and fungi. The presence of water also slows evaporation, giving the liquid more time to work against these cells before it's evaporated. Another key benefit of 70% isopropyl alcohol is the fact that it doesn't release harmful toxins and fumes into the environment, an important point to consider if the liquid is to be used in public spaces or within the home.
Many homeowners rely on 70% isopropyl alcohol for household cleaning, but its uses go much further than simply disinfecting surfaces. The properties of this liquid make it a good option for those wanting to remove stubborn marks and stains - it works against anything from the residue left by stickers to ink stains and unwanted marks on pieces of furniture. It can also be used to clean sinks and taps, and it has been proven to be highly effective when cleaning chrome or stainless steel surfaces.
99% Isopropyl Alcohol
The advantages of 70% isopropyl alcohol are numerous, but in some cases the presence of water in the liquid can be problematic. And this is when it's often a good idea to opt for 99% isopropyl alcohol instead. Solutions containing 99% isopropyl alcohol aren't quite as widespread as their 70% counterparts, but they too are hugely important in certain industries.
One of the main reasons why you might want to use 99% isopropyl alcohol instead of 70%, is if the product the liquid is to be used with is water sensitive. Those working in the production of electronics or medical devices tend to favour these solutions, as they offer the reliable disinfectant properties of the 70% solution, without any risks posed by water content.
Electricians, computer technicians, circuit board manufacturers and others rely on 99% isopropyl alcohol for its fast evaporation speeds too. In these industries, it's sometimes crucial that the liquid evaporates instantly when used. The beauty of 99% isopropyl alcohol is that no residue is left after evaporation, which is ideal for those working with electronic devices.
In some cases, 99% isopropyl alcohol is used as it can be more effective against the most stubborn marks, stains and residues. Sometimes a 70% solution won't quite cut it for the trickiest cleaning tasks, and in these cases it might be worth switching to a 99% liquid for best results. We've seen 99% liquids work incredibly well against grease and other stains.
Purchasing 70% and 99% Isopropyl Alcohol
Both 70% and 99% isopropyl alcohol are available to purchase for personal and commercial use. Before purchasing, read up on the advantages and disadvantages of different solutions to select the one that will do exactly what you need it to. Once you've decided on a solution, you'll be able to purchase it online or through a recommended retailer.
Bear in mind that these solutions are highly flammable, so specific shipping conditions may well apply. Read up on any terms and conditions of purchase before you commit, and once you're happy you can go ahead and place an order. Both solutions can be delivered to your door with minimal fuss, ready for you to put to use.
----
If you're struggling to decide between 70% and 99% Isopropyl Alcohol, or you'd like more information on any of our iIsopropyl alcohol products, don't hesitate to get in touch with our team. We're on hand to offer help and advice on isopropyl alcohol, and answer any questions you may have. Contact us and ask away!
Related products: