Looking for IPA?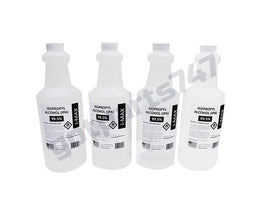 Browse Our Collection Here
Isopropyl alcohol is used all over the world, in a huge number of ways. The liquid comes in a variety of concentrations, and several different alcohols can be used to make it. Whether you're looking for the perfect solution for a disinfectant, need something to work reliability in hand sanitiser or you're on the hunt for the perfect fast-drying solution for use in electronics, you'll be able to depend on isopropyl alcohol. It's just a case of deciding which variety of the liquid best suits your needs.
Find out all there is to know about two of the most common forms of isopropyl alcohol in this guide. We'll show you what you can do with 91% isopropyl alcohol (ipa) and 70% isopropyl alcohol, and let you in on a few tips and tricks that you can use to get the most out of your isopropyl alcohol products.
What is Isopropyl Alcohol and What is it Used for?
Isopropyl alcohol is a widely used liquid solution which works brilliantly well for a whole host of different tasks. The alcohol-based product can be used in many ways; some of its most common uses being cleaning and disinfecting.
Isopropyl alcohol is such a strong disinfectant that it's widely used in hospitals and other environments that need to be completely sterile and germ-free. It's also perfectly safe to use in the home. Isopropyl alcohol can be used to clean surfaces and disinfect anything from door handles and light switches to sinks and draining boards. 
Liquid solutions like isopropyl alcohol aren't just for disinfecting homes and businesses, however. They can also be very effective in cleaning electronic equipment, and they're often used during manufacturing for this purpose. You'll find the liquid in use in the production of medical devices, too, where it's famed for its reliable germ-killing properties, as well as its lightning quick evaporation speeds.
The type of isopropyl alcohol required for different tasks varies according to the specific sensitives of any other products involved, and the objective of the task as a whole. For instance, those working in electronics will favour solutions with a higher alcohol and lower water content, as these protect fragile components and evaporate quickly. But if fumes could be an issue, it's best to go for a lower alcohol content, such as a 70% solution. Read on to learn more about the best uses of 70% and 91% isopropyl alcohol products.
70% Isopropyl Alcohol
Best known as a disinfectant, 70% isopropyl alcohol is one of the most commonly used cleaning solutions there is. The liquid works quickly against harmful bacteria, fungi and viruses, reliably destroying cells on a wide range of different surfaces.
The water content of the solution makes it particularly effective in the fight against dangerous cells, as it permeates the outer layer of the cell and coagulates the proteins held within. This effectively renders the cell useless and removes any danger that might have been lingering on surfaces.
This water content of 70% isopropyl alcohol ensures that the solution doesn't evaporate too quickly, meaning it has time to work before it evaporates. As a result, the solution makes a more reliable disinfectant than some of its more concentrated counterparts.
91% Isopropyl Alcohol
While 70% isopropyl alcohol makes a very effective disinfectant, the more concentrated version of 91% isopropyl alcohol also has some incredibly beneficial uses. This liquid can also be used to clean and disinfect surfaces, and it's safe to use on skin too. Many people use 91% isopropyl alcohol to clean cuts and burns on the skin, and to promote healing.
Well used in medical scenarios, 91% isopropyl alcohol often features in first aid kits. It's ideal for those cuts and scrapes that require a quick clean. It can help to eliminate potentially dangerous cells which could lead to infection further down the line. The liquid is so reliable that it is commonly used to sterilise skin and needles prior to injections, and it's perfect for those who must administer injections regularly, like those with diabetes for example.
The high alcohol content of 91% isopropyl alcohol makes it a good option for those who need to keep on top of stubborn stains and marks around the house, or in the workplace. If you find yourself battling to get ink stains out, or your other cleaning products can't shift the bothersome residue left by stickers, then  91% isopropyl alcohol could be just the thing you need. It's a powerful liquid which is highly effective against marks and stains, working quickly to remove marks with minimal effort.
Purchasing 70% and 91% Isopropyl Alcohol
Whether you need a bottle of 70% isopropyl alcohol to keep kitchen surfaces sterile, or you're looking for a supply of 91% isopropyl alcohol to keep in your first aid kit, you'll have no trouble getting hold of these items. Both solutions are widely available and can be purchased by individuals and businesses either online, or in person at retailers.
Order a supply of 70% or 91% isopropyl alcohol online and you can get bottles delivered to your door within days. The only thing you might want to note is the fact that both solutions are highly flammable, so there may be some restrictions on shipping. Take a look at any terms and conditions listed on the product pages to find out everything you need to know about buying these products online.
----
Looking for a reliable disinfectant to keep your family safe from germs, or a fail safe cleaning solution that'll keep your home in tip top condition? Isopropyl alcohol could be just the thing you need! Read up on the best uses of different isopropyl alcohol products to find the one that's right for you, then place your order to start trying it out.
If you have any questions relating to our isopropyl alcohol products, or you're unsure about which one would work best for your needs, don't hesitate to contact us.