Looking for IPA?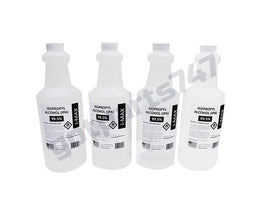 Browse Our Collection Here
IPA alcohol solutions provide a whole host of practical benefits in both the workplace and the home. These solutions are commonly used for many different jobs, from cleaning and disinfecting to sanitizing surfaces. Some IPA alcohols can even be used as rubbing alcohol on the skin. 
Available at different concentration levels, IPA alcohol solutions come with their own specific uses. So before you purchase a solution, find out more about the key features of different IPA alcohol grades and what you can use them for. 
100% Isopropyl Alcohol
The high strength 100% isopropyl alcohol is well known for its great cleaning capabilities. The solution evaporates quickly from all surfaces, and that's what makes it so effective when it comes to cleaning and disinfecting certain items. 
Liquids containing 100% isopropyl alcohol are often used for window cleaning, removing bacteria and disinfecting surfaces. You'll find this product in widespread use in cleaning companies, and it's well used by industrial services too. 
The practical uses of 100% isopropyl alcohol range from sanitizing and cleaning surfaces in kitchens and bathrooms, to cleaning surfaces that are touched regularly, such as computer screens and the screens of mobile devices. 
99.9%, 99.95%, 99.5% Isopropyl Alcohols 
In some cases, a slightly lower strength of isopropyl alcohols is required. Here, solutions such as 99.9%, 99.95%, 99.5% isopropyl alcohols are often ideal. These slightly different solutions are used in a variety of settings. 
Solutions containing 99.9% isopropyl alcohol are often used in pharmaceutical labs, hospitals and other medical facilities. This is because the solution is a highly effective disinfectant, which can assist in infection prevention. 
The slightly lower strength 99.95% Isopropyl alcohol is also used for cleaning, but in a different way. This solution is more strongly recommended for use in electronic cleaning and pharmaceutical processes. 
Solutions containing 99.5% isopropyl alcohol are widely used for general disinfecting and cleaning, just like the higher strength 99.9% Isopropyl alcohol. But that's not the only way in which these solutions are used. You'll also find them in use in the manufacturing of oils and botanicals, food machinery and even 3D printing and printing ink. 
91% Isopropyl Alcohol 
Liquids containing 91% isopropyl alcohol are well known for their antiseptic qualities. These solutions are therefore commonly used to clean surfaces, and the skin. 
Our 91% Isopropyl alcohol solutions can be applied to the skin to clean wounds and prevent infection. They also help to aid recovery. Other popular uses for these solutions include cleaning stubborn marks and stains from surfaces, for example removing grease, glue and oil. 
We recommend the use of 91% isopropyl alcohol for general cleaning and disinfecting in particular. The liquid is also in widespread use in the printing industry; you'll find it added to many printer inks. The food machinery industry also uses this solution. 
70% Isopropyl Alcohol
One of the most notable features of 70% isopropyl alcohol is its higher water content. This gives the solution some particularly important features. The solution will evaporate more slowly from skin and surfaces, meaning it has more time to take effect on any bacteria that may be lurking there. This makes it an effective disinfectant. 
The solution can be used as a rubbing alcohol. Its lower strength means it's kinder to the skin, while still retaining its highly reliable cleaning qualities. This solution can also be used to help keen plants free from parasites and insects, as well as hazardous funguses and viruses. Solutions containing 70% isopropyl alcohol are often more effective in removing bugs than higher strength alcohol solutions, because of the higher water content and longer evaporation times.  
IPA Strength: How to Choose the Most Practical Option
Before choosing which IPA strength to go for, we always recommend you read up on the specific pros and cons of each available option.
With many different solutions to choose from, you may well find several different liquids that'll do the job you need them to. But their effectiveness could well rely on the specific concentration of alcohol in the solution. Take a look at the key features of each product listed above, and check whether or not each solution would work well for the task you have in mind. 
As a general rule of thumb, electronics and other hard surfaces are best cleaned with the highest strength solutions. If you're looking for something to clean and sanitize skin or or plants, we recommend the lower strength 70% option. 
Remember, isopropyl alcohol is a hugely effective and versatile liquid, capable of cleaning and disinfecting skin and surfaces to an incredibly high standard. No matter what you need the solution for, this is a liquid that's always useful to have on hand.
---
If you have any questions about these products, or you need further advice on the best IPA alcohol solutions for your home or workplace, don't hesitate to get in touch. Our team is on hand to answer any queries you may have, and we'll be able to advise you on how to find the right product for you.