Looking for IPA?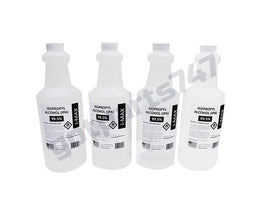 Browse Our Collection Here
Water and sanitation, air and recycling has always been important but over the last decade it has become a priority for most of the world driven by the United Nations.
Thanks to the pandemic, there has been a boom in visual prompts for hygiene and sanitation but which cities are truly the most hygienic?
Which cities are the most hygienic?
GotParts747 analysed the most popular 20 capital cities based on pollution levels, amount of solid waste generated, rate of recycling and composting, handwashing culture, quantity of Hand Sanitizer imported by country and population of each city to identify which are the leaders in hygiene. They then gave each factor a score out of 10 and then an overall score out of 10. 
Here are the results of GotParts747's research starting with the most to least hygienic cities:
1. Berlin, Germany - 8.2
2. Canberra, Australia - 7.5 
3. Ottawa, Canada - 7.2
4. Seoul, South Korea - 6.8
= Paris, France - 6.8
8. Cape Town, South Africa - 5.8
10. Bangkok, Thailand - 5.2 
= 
Washington D.C, USA - 5.0
12. 
Buenos Aires, Argentina - 4.5
= Jakarta, Indonesia
= Mexico City, Mexico
= Beijing, China
14. Manila, Philippines - 3.8
15. New Delhi, India - 3.2
66% of material is recycled in Berlin, this coupled with the 79,079,600 kilograms of imported hand sanitizer in 2019 makes it the most hygienic capital city. The Berliner Stadtreinigung (BSR) is Germany's largest municipal cleaning service and handles the waste of more than two million households. The BSR runs a comprehensive network of 15 recycling centers and 6 special waste collection points. Emptying 19 million bins of household waste and 6.6 million recycling bins every year. 
Canberra in Australia has the lowest pollution level index at 13.61% and it's no wonder after being named the most sustainable city in the world. The assessment was based on pollution and air quality among other measures. 
Wellington, NZ produced the lowest amount of solid waste in million metric tons in 2017. At an impressive 3 million metric tons beating the next best by 10.3 million metric tons. In January 2021, an updated waste management bylaw came into effect that further promotes the delivery of effective and efficient waste management and minimisation to decrease waste disposal to further protect the environment, manage litter and control approved waste services.
Beijing demonstrates the highest level of handwashing culture at 77%. Which is no surprise given the pattern of hygiene followed in ancient China and its population. In 500 BC a gentleman expected to wash his hands five times a day, bathe every fifth day and wash his hair every third day. After the second century of the Christian era and the coming of Buddhism the bathhouse was established in China for both upper class and commoners. 
What Makes a City Hygienic?
Every city wants to be the cleanest place for its inhabitants to enjoy living in but there is a difference between a clean city and a hygienic one. 
The definition of hygiene is the practice of maintaining health and preventing disease. This factors in the collection and disposal of municipal waste, the maintenance of sewage systems and the development of recycling operations. 
Everything from air quality to handwashing is a factor and cities have different approaches all over the world. 
Singapore famously banned the importation of chewing gum into the country in 1997 because used gum was the most commonly littered item and it was costing much more to remove than general waste.
Kigali in Rwanda maintains hygiene in the city with umuganda. Umuganda is part of Rwandan identity and translates as "coming together in common purpose to achieve an outcome" which basically means that the community pulls together for social responsibility to take ownership of the city's sanitation. 
How Can You Contribute to Your City's Hygiene?
We are all responsible for the area we live in and we can positively contribute by doing the following:
Walking, cycling or using public transport when we can

Disposing of garbage appropriately

Sorting garbage for recycling

Reusing and recycling.