Looking for IPA?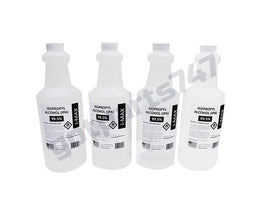 Browse Our Collection Here
Latex has long been used to manufacture gloves for a whole host of different situations, from medical settings to research and construction. But more recently, another type of glove has begun to make a real impact: nitrile. 
While both nitrile and latex gloves offer unparalleled protection for the wearer, they also come with their own specific advantages and disadvantages. So it's well worth reading up on how these materials differ to learn which gloves would be best for your own workplace. 
Read on to learn more about the differences between latex and nitrile gloves and get to know these materials a little better. 
What is latex?
Latex is a material made from tree sap. It's a natural material which has been relied upon for its protective qualities for a considerable period of time, and it's particularly effective when used to make safety products such as gloves. 
A strong and tough material, latex does not rip or tear easily. This makes it a good choice for those who need gloves that can be relied upon to form a robust protective layer between harmful particles or chemicals and their skin. 
One of the main disadvantages of latex is the fact that some people have allergies to it. These allergies are usually not serious in nature, but manufacturers must ensure packaging is clearly labelled so that sufferers can avoid the product. 
What is nitrile? 
Unlike latex, which is entirely natural, nitrile is a man-made material. This synthetic material is manufactured to give it similar properties to latex, and it comes in several different versions. 
Originally derived from petroleum, nitrile is strong and highly resistant to many harmful chemicals, oils and acids. For this reason, it can be used to manufacture protective gloves and other safety wear. 
Nitrile is widely used in medical settings such as doctor's surgeries and hospitals, but you'll also find nitrile gloves being worn in other workplaces, like tattoo parlours, laboratories, garages and automotive factories. 
Mechanics and technicians rely on the strength of nitrile to protect their skin from harmful chemicals on a day to day basis. Nitrile is not a widely known allergen, so it's also often used by those who suffer from latex allergies and can't wear typical latex gloves. 
Which is better: latex or nitrile? 
If you're weighing up the pros and cons of latex vs nitrile gloves, you're probably looking to find out which option is better. But the answer to this isn't a simple one. Both materials provide a unique set of benefits, along with their own specific disadvantages that wearers need to bear in mind. Take a look at some of the key advantages of the different materials below. 
The benefits of latex gloves 
Latex is an incredibly popular material in glove manufacturing, and it's widely available all over the world. So if you opt for latex gloves for your workplace, you should have no trouble topping up your supply whenever you need to. 
Latex provides an incredibly strong barrier of protection for the skin, which is why it's so often used by medical professionals. Gloves made from latex also tend to be quite comfortable to wear, an important consideration for those who need to wear gloves throughout their working day. 
There are different types of latex which can all be used to make gloves. So the option you go for will depend on how you intend to use the gloves. Some of the most common types of latex used in glove manufacturing include food grade latex, general purpose latex and medical grade latex. The level of protection offered by the gloves varies according to these specifications. 
The benefits of nitrile gloves 
Like latex, nitrile is comfortable to wear and ideal for those who need to wear gloves all day long. It's also highly dexterous, which makes it a good option for those who must be very precise with their hands - for example surgeons, veterinarians or dentists. 
While latex offers strong protection for the skin, nitrile is known for being somewhat more durable. In testing, it has been shown to be more puncture resistant than latex, so if strength is a key concern nitrile gloves may be a safer option. 
Nitrile gloves also offer a higher level of protection against some chemicals. However, we always recommend that you research the particular chemicals that your team is likely to come into contact with, looking into how your chosen glove material responds to these before making a decision as to the best gloves for them.  
Deciding between nitrile and latex 
If you're facing the difficult choice between nitrile and latex gloves, there are a few different things that are worth bearing in mind. 
Think about how your gloves will be used, and which chemicals, oils or acids your staff may need protection from. Look into the properties of latex and nitrile to learn how these materials respond to these specific hazards, as you may find that a clear winner soon emerges. 
If both nitrile and latex gloves offer similar protection for your team, think about how robust you'll need the material to be. Remember, nitrile is stronger in terms of puncture resistance and that's why it's so often used by those in manufacturing and automotive industries, as well as research facilities. 
Affordability is another factor that you may wish to consider before making a choice. While nitrile does offer superior protection in many situations, it may be that your team does not require such a robust option. If this is the case, you could consider latex as a more cost-effective, yet still incredibly safe option. Nitrile gloves are more resistant to many chemicals, but they also tend to command a higher price tag. 
--
Nitrile and latex gloves offer excellent levels of protection for staff in a wide range of different workplaces. If you're considering switching from one material to the other, or you'd simply like more information on the benefits of different forms of protective equipment, get in touch with our team. We can advise you on the best gloves for your business to help keep your whole team safe - no matter what you're dealing with.
If you need any further information, don't hesitate to contact our team.