Looking for IPA?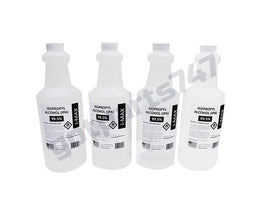 Browse Our Collection Here
The use of hand sanitisers has risen exponentially as a result of the global coronavirus pandemic, with increasing numbers of people now using hand sanitisers on a daily basis. February 2020 saw sales of hand sanitizers rise by 80.7%, compared with the same period in the previous year. A year on, sales of these products remain significant in the worst affected countries. 
There has been fierce debate over the safety of chemicals used in hand sanitisers in recent years, with many countries enforcing strict legislation on what can and cannot be used in the products. But the huge level of demand for hand sanitisers during the pandemic necessitated the relaxation of some of these regulations, particularly in the USA. However, a recent study conducted by Valisure has since brought a new and worrying trend to light. 
The Valisure study, which was released in March 2021, found unsafe levels of a well known human carcinogen in many of the hand sanitisers it analysed, raising the question: Are there cancer-causing chemicals in some hand sanitizers? 
What Was Detected?
Valisure's study examined 260 different hand sanitiser products being sold in the USA. The ingredients of these products were tested, in order to identify any which may have included toxic chemicals. 
Benzene, a well known carcinogen, had previously been banned for use in hand sanitisers because of the threat it poses to human health. The chemical, which is known to cause a number of different cancers including leukemia, is dangerous if inhaled, ingested or absorbed through the skin and/or eye contact. 
As demand for hand sanitisers rose at the start of the pandemic, the FDA relaxed its rules regarding the use of this chemical, stating that an interim limit of 2 parts per million (ppm) of benzene could be used in liquid hand sanitisers. Yet the Valisure study found that a significant number of products on the market included levels of benzene that far exceeded this interim limit. 
The research found 44 batches of hand sanitiser (17% of all products analysed) included levels of benzene which exceeded 2ppm. The highest level recorded in a single product was 16.1ppm, which is over eight times the interim limit. 
The Dangers of Benzene
Exposure to high levels of benzene can have devastating effects on a person's health. Well known as a cause of several cancers, benzene is a recognised carcinogen which can contribute to the development of acute myeloid leukaemia, lymphocytic leukaemia, non-Hodgkin's lymphoma and multiple myeloma. 
The chemical can also reduce the production of both red and white blood cells in the bone marrow, causing anaemia. Lower levels of benzene exposure can cause less serious effects, such as skin irritation, headaches, drowsiness and dizziness. 
Humans can be exposed to benzene in a number of ways. It can be absorbed through the skin, through direct contact, and it can be inhaled or ingested. Contact with the eyes also poses a risk of contamination. Some occupations are particularly at risk of benzene poisoning, but it's also a risk factor for the general population as it can be found in car exhaust fumes, in cigarette smoke and in the air of residential buildings. 
What is the FDA's Response?
The FDA recently issued a warning to consumers and healthcare professionals, informing them of the risk of unacceptably high levels of benzene in some hand sanitiser products. 
In a statement, the FDA confirmed Valisure's findings and recommended that consumers avoid particular brands of hand sanitiser, as identified through the Valisure research. The statement also reiterated the organisation's recommendation that consumers wash their hands with soap and water wherever possible, relying on hand sanitisers only when this isn't a practical solution. 
In terms of its recommendations on the best hand sanitisers to use, the FDA stated that consumers should opt for alcohol-based sanitisers including at least 60 percent ethanol (also known as ethyl alcohol).
Buyers were told to avoid Durisan Antimicrobial Solutions Hand Sanitizer manufactured by Sanit Technologies LLC, due to the risk of microbial contamination. It was found that this product contained "high levels of Burkholderia cepacia complex and Ralstonia pickettii, which can lead to serious infections, including infection of the skin, soft tissues, lungs or bloodstream." The hand sanitiser has since been voluntarily recalled by the company. 
Valisure has published a list of particular hand sanitisers which should be avoided, due to the high levels of benzene found in these products. Take a look at the most up to date list of brands to be avoided here. 
What Should be in Your Hand Sanitizer? 
With so many different hand sanitisers now on the market, it can be difficult to know which products offer the best protection - and which are best avoided altogether. 
Our advice is to look out for sanitisers that include ethanol or isopropanol as their active ingredient. These alcohol-based products can be relied upon to protect against germs, bacteria and viruses, and are effective in stopping the spread of coronavirus. 
Isopropyl alcohol-based hand sanitisers are proven to be highly effective in killing 99.9% of germs, so they're perfect for situations where soap and water aren't readily available. 
Look out for products using formulas that have been approved and recommended by leading organisations such as the FDA, CDC and WHO to ensure that your hand sanitiser provides a good level of protection from viruses, and doesn't contain any harmful ingredients that could cause other nasty side effects. 
---
The alarming findings of Valisure's recent study into the ingredients of hand sanitiser products highlights the importance of checking exactly what goes into the cleaning products we use on a daily basis, and choosing our go-to brands carefully. 
Always opt for a reputable product from a well known company to minimise the risk of exposure to harmful chemicals. Our hand sanitisers are all made according to FDA-approved formulas, and regularly tested to ensure their safety. Choose from a selection of alcohol-based hand sanitisers to keep your home and workplace free from viruses, germs and bacteria.